Angel number 6 is here! To put an end to all your shopping compromises and problems we bring the Super6 sale of 6thStreet for you! If you have been with us, you that we always got your back with amazing deals and discounts. This time we are taking it up a notch. If you're a 6thStreet fan, well, we guess you are going to love it!
First, let us introduce ourselves to those who are yet to use and love us, every time they shop! Hey! We are VouchercodesUAE, and in the next few minutes, we are going to be your best shopping buddy. You can visit us and get promo codes and discount offers in UAE. Amazon, Noon, Vogacloset, Mamas&Papas, you name it and we have you covered. We had 1186 free coupon codes & discount deals added just this week. If that doesn't tingle the shopaholic inside you, well, there's more from where that came from.
Super6 Sale: 6thStreet outdid themselves!
6th Street is one of the world's best high street fashion brands. It is the one-stop destination for women, men, and kid's fashion. We offer several 6th street coupons you can choose from. This time, 6th Street outdid itself with the Super6 Sale. How could we not share it with you?
What is the 6thStreet Super6 Sale?
You will need to mark your calendars for the 6th of every month. Why? Because you will be greeted with new launches, special deals, and heavy discounts! A chance to shop from your favorite brands once a month, with a discount of up to 60%. That's not all, the offer is valid for all products; shoes, accessories, handbags, skincare, makeup, and much more.
These offers start from tomorrow and will be live on the 6th of the month. Yes, the super6 sale will be (we hope) forever.
An extra 10%?
We couldn't just end with it, right? The Super6 Sale campaign may feature your favorite influencer. Keep a lookout for that as well. You will get a chance of adding that extra 10% off to your arsenal! Download the app, you will need it for that extra 10% off.
Look out for these hidden gems
There is absolutely no need to be indecisive for the Super6 sale. We will let you know about the most wanted items that you should absolutely check out (both ways).
Fresh hits
Don't worry about anything else and scroll your way to check out the Fresh Hits. These are the latest arrivals in the 6thStreet dream closet. Fresh, trendy, and so on point that you cannot say no to them.
Exclusive: only on 6th Street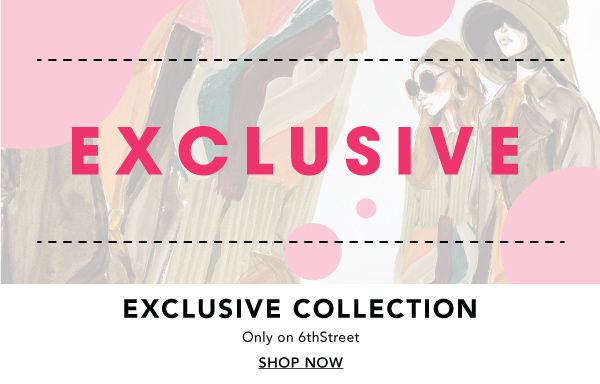 Items that are exclusive to only 6th Street. You cannot find anything like this anywhere except here. For someone who is as exclusive as special, this is the perfect match.
There's no expiry date, so start marking your calendars and setting your alarms for the 6th of every month. Follow our blog and hang with us to know more about the special deals and 6th street coupons. We have the latest updates on food, fashion, lifestyle, and beauty. Check also our coupons for stranger things 80s fashion!